After a busy second week in our new offices I dashed home, devoured a large bowl full of pasta and headed out to Chatsworth.
There I joined friend and local business owner Darren Bristow, Director at Sheffield Digital Agency - Quba and Founder of Eyes Open Creative along with over 1000 other runners to take part in the Ashgate Hospice 10k Torchlight Race.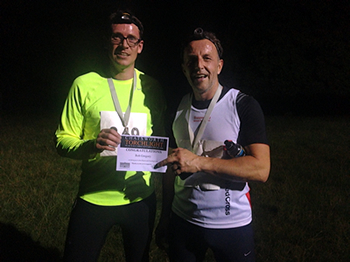 The event was brilliantly organised, a lot of fun and something different I'd not done before. Darren and I have run numerous races together over the past few years but non wearing a head torch, on uneven ground in the pitch dark.
We certainly enjoyed the race as it gave us chance to have a good catch-up whilst raising some money for a good cause…..my only regret is encouraging 2 teenage girls (who had walked the 5k route in fancy dress) to run with me over the finish line. I learned a lesson. With 100 meters to go, when you have already pushed hard for the last 2k of the race, the last thing your legs want you to do is to unwittingly instigate a sprint finish with people half your age who are seemingly very competitive. I came a close second. I was however compensated by an applause and the knowledge that I had raised some cash that would make a difference to someone that needs help in their hour of need.
It's the first year this 10k event has happened and speaking to one of the organisers Emily Evans it sounds like it was a real success that raised over £24k for a great local charity. Let's hope it happens again in the future.
I feeling the love for running again. In fact this week I start training for the Chesterfield Marathon in 2014! Damn, I kind of just commited to that didn't I...