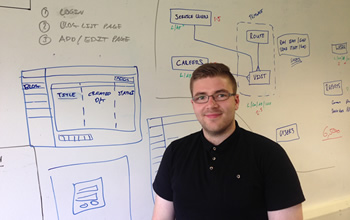 Today Magnifica welcomes a new member to our growing team of technology experts. Our new recruit is software developer Owen Fisher. Owen is a young, fresh-faced graduate from Sheffield Hallam University's. Graduating from the class of 2014 Owen is ready and raring to start solving technical problems here at Magnifica.
Owen will be working on a range of projects as well as looking after first line support and our support system - if you're an existing client you'll probably be hearing from Owen over the next few weeks. A few words from Owen
Having just come out of university, and also having a spent a successful work placement year doing software development and testing within the NHS, I am very keen to be starting here at Magnifica.
Although I am young with not much experience in the work arena, I am keen to bring all the positive attributes that have made my university experience a success and become a good asset for Magnifica, as well as the clients who will be needing my assistance.
I am a man of few words so I will leave it there, but I am very excited to be working here and looking forward to getting stuck into some very interesting projects.
Director Rob Gregory welcomed Owen to the team: "We are delighted that Owen has joined us her at Magnifica. We are looking forward supporting Owen as he puts his technical skills to use in a commercial setting - he'll be a great asset to our team."
Welcome to Magnifica Owen.