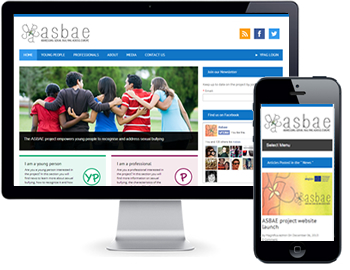 Magnifica were recently selected by Leeds Metropolitan University to help them and their academic partners develop a European wide project website.
Today we are pleased to announce that the Addressing Sexual Bullying Across Europe (ASBAE) website is live.
Over the past 2 months Magnifica have work closely with the 6 organisations involved in the ASBAE project to deliver a mobile ready and fully responsive website. The website's primary purpose is to allow the project team to share information with young people and professionals across the whole of Europe.
We also built a secure knowledge sharing area for young people and professionals to discuss experiences and approaches to tackling the issue of Sexual Bullying. Leeds Metropolitan University chose Magnifica to deliver the ASBAE website based on our proven record in delivering quality web solutions and our ability to fully meet their requirements brief.